Head of Tech Solutions – 10 Years Experience
Specialism
Marketing SaaS | Digital Advertising Technology
Roles
Solutions Consultant | Sales Engineer | Pre-Sales | Product Manager | Data Analyst
With over six years' executive search experience across multiple sectors, Jim has proven ability in head hunting the market's best talent for extremely niche requirements. Jim recruits mid-senior level roles within solutions selling, sales engineering and product management.
Placed Positions
Senior Solutions Engineer – B2B Content Marketing SaaS
Solutions Manager EMEA – Leading Native Advertising Platform
Head of Customer Analytics – Global Publisher
Head of Programmatic – International Advertising Agency
Solutions Consultant – VC Backed Marketing Analytics SaaS
Manager, Digital Strategy and Data – Global Entertainment Brand
Program Manager – Healthcare Publisher
Product Manager – Mobile-first Marketplace
Jim's Top Tips
Top tips for candidates
I would recommend exploring opportunities that seem a little outside the box from time to time. Either you'll discover a great company and role or you may reaffirm you are already going in the right direction, which is no bad thing. Whatever happens you will no doubt be making great contacts along the way and expanding your market knowledge.
Top tips for clients
Great to keep the momentum and speed going during your interview process. Great candidates tend to have multiple options and always a good chance of missing our if there are too many delays. Candidates like to feel loved too and tend to favour the companies who are most responsive and give good feedback.
Top tips for recruiters
Knowledge is key! Always great to understand in detail what clients like about candidates as well as the things that really appeals to candidates. The deeper you can dive into obtaining feedback on both sides the better.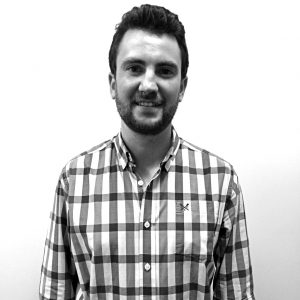 Testimonials
Jim is an absolute pleasure to work with. He carefully matches candidates with clients and
ensures he considers requirements from both sides. Unlike other recruitment agencies or
recruiters, Jim includes a human view point which makes for a very refreshing recruitment
experience. I highly recommend Jim and hope to work with him again soon.
Head of Digital Marketing – Global Entertainment Brand
I absolutely got a great service from Jim. I felt like he was very proactive in both searching for
appropriate opportunities and then making sure that the interview and hiring process went
smoothly.
Partner Support Engineer at Intent Media
Grey Matter is a brilliant agency for employment in digital roles with a dedicated team of
consultants. I was very impressed by the fast turnaround I got from Jim as soon as I started
working with him and how he found the best opportunity for me right from the start. Thanks to Jim
I found my dream job, therefore, I cannot recommend him enough!
Manager, Digital Strategy and Data at Warner Bros
Jim not only provided me with clear information, but also guidance throughout the entire process
of my application. When I accepted the role, I could tell that he was truly happy for me, and that
personal investment from Jim had no doubt helped me secure that next career move. Thanks
Grey Matter!
Digital Games Manager at Warner Bros
Email: jim@greymatterrecruitment.co.uk
Phone: + 44(0)7802 655 133